Okay, just to start off, I'm gonna be so bad at this.
I take a book that I've never read before, or heard hardly anything about, and I try to guess what the book is about.
You were warned.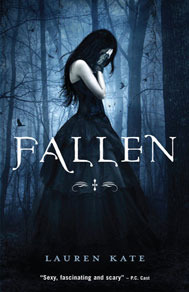 Fallen
by Lauren Kate
Okay. Um. I get the feeling that this is about fallen angels, but I'm not sure. Is she wearing that dress for show of how dark things are or....??? Is it a period novel??? Geez. I'm horrible.
Fallen angel. Sad girl. Girl and guy torn apart by terrible fate because... he can't love? Because he's a fallen angel? Or maybe he thinks he's bad for her. Apocolyptic. Dystopian.
That's as good as it's gonna get.
Real Actual Blurb That Wasn't Read Before Now:
17-year-old Lucinda falls in love with a gorgeous, intelligent boy, Daniel, at her new school, the grim, foreboding Sword & Cross . . . only to find out that Daniel is a fallen angel, and that they have spent lifetimes finding and losing one another as good & evil forces plot to keep them apart.
*shrieks and points*
I WAS SO CLOSE. SO CLOSE.
Okay, okay. I'm calm now. Next book.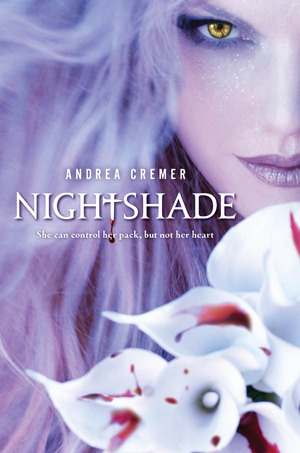 Nightshade
by Andrea Cremer
Her eyes are golden. All I can think about is Teen Wolf. Is she a werewolf? There's a lot of blood.
Yeah, it's gotta be werewolves. (Although stakes don't kill werewolves, wolfsbane does. Trust me.) Does it involve vampires?
I wanna say no. I really wanna say no because that makes me think about Twilight and I couldn't even watch the first movie. (Bella's not funny. At all. I wanna quote Haymitch but Haymitch is mean. Whatever. I'll whisper it.
She's got about as much charm as a dead slug.
I'm sorry if you loved it!! Please don't take it personally.)
Please be about werewolves.
Book Blurb That Was Not Peeked At
Calla Tor has always known her destiny: After graduating from the Mountain School, she'll be the mate of sexy alpha wolf Ren Laroche and fight with him, side by side, ruling their pack and guarding sacred sites for the Keepers. But when she violates her masters' laws by saving a beautiful human boy out for a hike, Calla begins to question her fate, her existence, and the very essence of the world she has known. By following her heart, she might lose everything- including her own life. Is forbidden love worth the ultimate sacrifice?
YES. IT'S ABOUT WEREWOLVES. HOLLA.
Forbidden love and werewolves are always put together. I should've guessed that.
I'm sorry. All I can think while looking at this cover is that the girl is probably undergoing the torture of having a small blanket when it's really cold.
Seriously. Is that supposed to be a dress or...?
Okay. Dark Divine... fairly certain it's about something supernatural. Magical, perhaps? I get that feel. Female protagonist, judging front the purple nail polish. I can't stop thinking about how much the poor girl needs some good pants.
I'm gonna go with the forbidden love thing again. Just 'cause. She's caught up in a war. Maybe paranormal? Set today, though, I think.
Book Blurb That Needs to Tell Me ALLLLLL
Grace Divine, daughter of the local pastor, always knew something terrible happened the night Daniel Kalbi disappeared--the night she found her brother Jude collapsed on the porch, covered in his own blood--but she has no idea what a truly monstrous secret that night held.
The memories her family has tried to bury resurface when Daniel returns, three years later, and enrolls in Grace and Jude's high school. Despite promising Jude she'll stay away, Grace cannot deny her attraction to Daniel's shocking artistic abilities, his way of getting her to look at the world from new angles, and the strange, hungry glint in his eyes.
The closer Grace gets to Daniel, the more she jeopardizes her life, as her actions stir resentment in Jude and drive him to embrace the ancient evil Daniel unleashed that horrific night. Grace must discover the truth behind the boy's dark secret...and the cure that can save the ones she loves. But she may have to lay down the ultimate sacrifice to do it--her soul.
Oddly enough, no talk about romancey romance. Just sacrificing souls and hungry eyes (gross, by the way). Huh. Interesting.
I was right about the paranormal part.
That's all I have to say.
BLOOD. BLOOOOOD. That's it. It's about vampires. Forbidden love and star-crossed lovers. Romeo and Juliet once again. Seperated by something gross. Like demons or something. She sees him and falls in insta-love. She hasn't always been a vampire. Maybe she was bitten? I dunno. Is he the super hot popular dude that takes insta notice of the new girl who is confused and bewildered yet totally hot?
Blood FEUD, though. Are there seperate groups that end up fighting or something? Anyways, big vampire showdown.
Blurby Blurby Blurb. LEGGO.
It's been centuries since Isabeau St. Croix barely survived the French Revolution. Now she's made her way back to the living and she must face the ultimate test by confronting the evil British lord who left her for dead the day she turned into a vampire. That's if she can control her affection for Logan Drake, a vampire whose bite is as sweet as the revenge she seeks.
The clans are gathering for Helena's royal coronation as the next vampire queen, and new alliances are beginning to form now that the old rifts of Lady Natasha's reign have started to heal. But with a new common enemy, Leander Montmarte—a vicious leader who hopes to force Solange to marry him and usurp the power of the throne for himself—the clans must stand together to preserve the peace he threatens to destroy.
This second adventure in the Drake Chronicles—told from both Logan's and Isabeau's perspectives—has all the same butt-kicking action, heart-pounding romances and snarky humor that readers loved in Hearts at Stake, as well as exciting new revelations about the vampire dynasties to keep readers coming back for more.
Hm. Cool. I got lots right, and lots kinda not right.
Anywho. This post might feel rushed, and if it does, that's because it is. I'm literally typing this up last minute because I have to go get my beauty sleep and do tons of school tomorrow AGAIN. (darn you, English teacher, for giving me so many essays to write)
Okayz. Be expecting a post up by Saturday, stating my community service adventures (Day 3) and possibly another Judging Books post because I'm unoriginal like that.
'Til next time.