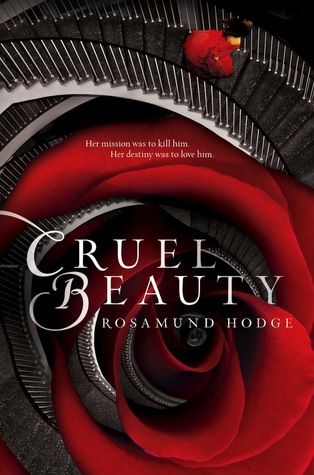 Since birth, Nyx has been betrothed to the evil ruler of her kingdom-all because of a foolish bargain struck by her father. And since birth, she has been in training to kill him.
With no choice but to fulfill her duty, Nyx resents her family for never trying to save her and hates herself for wanting to escape her fate. Still, on her seventeenth birthday, Nyx abandons everything she's ever known to marry the all-powerful, immortal Ignifex. Her plan? Seduce him, destroy his enchanted castle, and break the nine-hundred-year-old curse he put on her people.
But Ignifex is not at all what Nyx expected. The strangely charming lord beguiles her, and his castle-a shifting maze of magical rooms-enthralls her.
As Nyx searches for a way to free her homeland by uncovering Ignifex's secrets, she finds herself unwillingly drawn to him. Even if she could bring herself to love her sworn enemy, how can she refuse her duty to kill him? With time running out, Nyx must decide what is more important: the future of her kingdom
, or the man she was never supposed to love.
How do I review this book without flailing everywhere? Oh, that's right. I DON'T. *flails everywhere*
Let's just start with the main character, Nyx. Okay, so I didn't love her. I knew why she was doing the things she was doing and even though I didn't always agree with that, I did understand where she was coming from. She was tough. Strong. And a little bit cruel. But she ached for love. To be honest, I didn't really see a lot of Belle (seeing as this is a Beauty and the Beast retelling...) in her. But that's okay! In fact, I'm glad Nyx wasn't entirely like Belle. She probably would have died within the first ten pages if she was.
Ignifex
and
Shade
, well...
I'm not entirely sure what I can say that won't be spoilery considering these two, but I'll try my best. And basically what it comes down to is IGNIFEX. I am pretty much a goner around villains that act like villains while simultaneously being sarcastic and just really sort of weird. I'm not sure if "weird" is the right word (I almost want to use adorable instead), but just to tell you why I chose weird-- he is constantly poking Nyx in the forehead and on her nose and he basically uses her as a pillow 24/7. He is like a cat.
I spent most of the book mad at Shade. Well, okay, not most. More like... half. He felt sort of bland to me at first. But WAIT. After a little bit he becomes anything but bland. NO ONE IS BLAND IN THIS BOOK. But everyone is also a little bit (or a lot) evil.
Which brings me to Nyx's little sister,
Astraia
. She was supposed to be
the nice one
. I was supposed to
like
her, and feel
bad
for her. And I did, at first. But then... THE INCIDENT. She almost felt more cruel and manipulative than Nyx and I was just staring at the book with a repulsed expression on my face thinking about how much I really wished Nyx would walk away from her very bad, very mean family
forever.
The world was absolutely brilliant. A sky made out parchment paper?? YES PLEASE. Also, I absolutely love Greek mythology. Maybe it's because I've studied it and written essays on it and read an abundance of stuff about it (all of that, not counting the essays, for pleasure) but I never really got confused about who was who and all the ranks and all the mythical places. But my brain almost died when the complexity of how the house worked was brought up.
And let me just take a moment to talk about the
ending.
Talk about heartbreak. I'm pretty sure I was sitting there in a bubble of depression for hours after I finished the book.
Spoiler (highlight to read): [
And let's not even get started on how much I missed Ignifex after him and Shade came together as the two halves of the former prince. That being said-- I totally had thought that Ignifex had possessed Shade's body or something and that Shade was the actual prince while Ignifex had nothing to do with all that except for the itty-bitty detail of him being the demon prince.
]
All in all, I absolutely loved this book. There are hints of Beauty & the Beast everywhere, but unless you're paying close attention you'll definitely miss a couple of them. They weren't at all obvious, and this book is, well... nothing like the Disney movie
except
for the those small details. But I absolutely
loved
how much Rosamund Hodge twisted the fairytale into this awesome-ness.