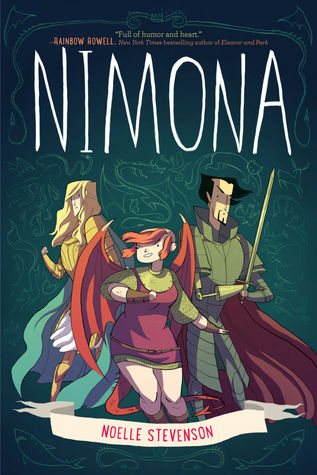 Nemeses! Dragons! Science! Symbolism! All these and more await in this brilliantly subversive, sharply irreverent epic from Noelle Stevenson. Featuring an exclusive epilogue not seen in the web comic, along with bonus conceptual sketches and revised pages throughout, this gorgeous full-color graphic novel is perfect for the legions of fans of the web comic and is sure to win Noelle many new ones.
Nimona is an impulsive young shapeshifter with a knack for villainy. Lord Ballister Blackheart is a villain with a vendetta. As sidekick and supervillain, Nimona and Lord Blackheart are about to wreak some serious havoc. Their mission: prove to the kingdom that Sir Ambrosius Goldenloin and his buddies at the Institution of Law Enforcement and Heroics aren't the heroes everyone thinks they are.
But as small acts of mischief escalate into a vicious battle, Lord Blackheart realizes that Nimona's powers are as murky and mysterious as her past. And her unpredictable wild side might be more dangerous than he is willing to admit.
I read the first version of Nimona when it was being uploaded onto Noelle Stevenson's website. I read the whole thing in one day. And it's a good thing I did, because only a couple days later, it was taken down and replaced by the first three chapters. I knew it was being published, but I was still so delighted to see it in Barnes and Noble that I practically screeched in the middle of the aisle.
I then proceeded to drag my sister towards it while happily pointing and going, "LOOK IT'S NIMONA I LOVE NIMONA I NEED IT IN MY LIFE."
Well, I read it again and loved it even more. There are parts that weren't online, and an epilogue. PLUS, sketches of early versions of the characters, along with two Christmas specials that were online.
I am very happy.
On the cover, it says "Full of humor and heart." (Rainbow Rowell said that, in case you were wondering). I honestly couldn't have described it (at least, in one sentence) better. It's both hilarious and heart-warming. You become so involved with the characters-- even the ones you might not like. Noelle Stevenson's humor feels effortless. It's AWESOME.
The friendships between characters feel so real and, despite whatever has happened between them, the bonds always seem like they go beyond the jokes and snark you read.
It does get dark. I've read much darker and creepier books, but Nimona didn't flop in the "dark" department at all. In fact, I thought it was also brilliant. There are two sides to everyone, and Noelle Stevenson takes that to a whole new level.
So, was it worth the money? YES. DEFINITELY. 100% RECOMMEND.