OH MY WORD I AM A TERRIBLE PERSON. It's been a week since I posted, and I am so, so, so sorry. I've basically been busy doing absolutely nothing on my winter break-- well, nothing except for writing and laughing and watching movies and eating a lot of chocolate and ice cream.
Today I went to McKays (if I could live there I would) with my wonderful family, and I got six books for $5.55. I am very pleased.
So, book one:
Enchanted Forest Chronicles - Book 3 - Calling on Dragons - Patricia C. Wrede
Calling on Dragons by Patricia C. Wrede
This series does have mediocre covers, but the dry humor and unique characters make up for it.
Those wicked wizards are back--and they've become very smart. (Sort of.) They intend to take over the Enchanted Forest once and for all . . . unless Cimorene finds a way to stop them. And some people think being queen is
easy
.
Well, let me finish by saying this: The books
are
aimed at a younger audience. But I don't care because I'm young at heart.
Book two:
The Pit Dragon Chronicles - Book 1 -
Dragon's Blood by Jane Yolen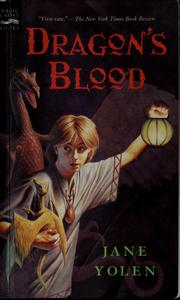 Dragon's Blood by Jane Yolen
Dragons are trained to fight to the death, and two determined teens help free them in this spellbinding saga.
Training a dragon to be a fighting champion is the only way to freedom for fifteen-year-old Jakkin.
Obviously, the blurb does not do a good job of telling what the book is really all about. I haven't read it yet, but the words on the back of my copy of the book do a
waaay
better job.
Book three:
Magic Can Be Murder by Vivian Vande Velde
Magic Can be Murder by Vivian V. Velde
Nola isn't much of a witch. She can work only a few useless spells, like the one that lets her spy on people by enchanting a bucket of water. But there's no spell for keeping her mother-who hears voices and is a magnet for witch-hunters-out of trouble. The two of them evade the authorities by traveling from town to town, taking odd jobs and moving on-until the day Nola magically witnesses a murder. . .
You guys know how obsessed with Vande Velde I am. You know how I swore to buy all of her books and all that. Well, I obviously am not keeping that sweary thing because there were, like, four more of her books at McKays this time around. The reason I did not buy them mostly revolves around three things:
They were really creepy.
They were kids books.
I already had a copy.
That being said, I shall move on.
Book four:
Dragonlance Chronicles- Part 1 - A Rumor of Dragons by Margaret Weis & Tracy Hickman
A Rumor of Dragons
I couldn't find any pictures of this book online, so I snapped one of my one. Here's the synopsis.
Fear and dread have fallen on the land of Ansalon as life-long friends reunite at the Inn of the Last Home. They are as different as friends can be -- an outcast in love with a princess, a would-be warrior, his brother a wizard-in-training, a stern knight, a grizzled old dwarf, and a childlike kender -- but they have come together again in hopes of saving all they hold precious.
But their beloved homeland has fallen farther into darkness than they could imagine. What began as a gathering of friends soon turns into a struggle for survival and a quest to stop the dreaded Dark Queen from enslaving the world. Enemies lurk in every shadow, and on the winds of autumn comes the whisper of creatures thought long gone -- a rumor of dragons.
Book five:
Chasing Yesterday - Book 1 - Awakening by Robin Wasserman
Awakening
Some things are too painful to remember--and too deadly to forget.
Found: One girl, age 13. Unconscious. Unharmed. Unclaimed. Unidentified.
Lost: Everything.
J.D. may not know the truth about her past, but she knows she's in danger, and she can't shake the dark visions haunting her dreams. She won't be safe until she figures out who she is and where she came from. She can trust no one, not even herself--especially not herself. Because it turns out there's one thing even more terrible than forgetting her past: remembering.
Book six:
Chasing Yesterday - Book 2 - Betrayal by Robin Wasserman
Betrayal
Some things are too painful to remember--and too deadly to forget.
Found: One girl, age 13. Unconscious. Unharmed. Unclaimed. Unidentified.
Lost: Everything.
J.D. and Daniel are on the run, searching for answers about her past...and about the dangerous powers she can't seem to control. She knows she can't trust the memories implanted in her mind by the mysterious Dr. Styron, but they still feel real--and they won't stop haunting her. J.D. must race to uncover the truth and unlock the dark secrets in her brain...before it's too late.
Later,
Tansie G.